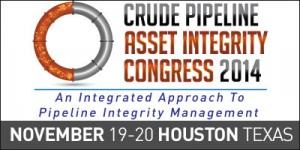 This year's inaugural Crude Pipeline Asset Integrity Congress is the only event designed specifically for crude oil pipelines.
With the continual emergence of new shale plays across the US, crude production has continued to soar and crude takeaway capacity with it. Tens of thousands of miles of crude pipelines now traverse the United States and Canada and as pipeline infrastructure continues to expand at this rapid pace, it has become absolutely imperative for pipeline operators to maintain the highest level of integrity in these pipelines to maintain flow rates, avoid hazardous leaks and expensive repairs.
Crude pipelines and facilities require specific tools and considerations for maintenance. In order to deliver operators with the most comprehensive understanding of the latest, most effective integrity management tools relevant to their operations, solutions designed specifically for crude pipelines need to be presented.
"This is the only conference focused specifically on crude oil pipelines and 100% focused on the pipeline operator's experience. We've put together a select group of pipeline operators and academics to deliver practical case studies on optimizing the main pipeline integrity plan. This is really a very valuable opportunity for operators to learn from each other and apply that knowledge to their day to day work." Says Diana Franco, Conference Director.
Kinder Morgan, BP, ExxonMobil, Centurion Pipeline, Buckeye Partners and more are also confirmed to speak at the conference on 19-20 November in Houston.
For more information, please visit the event website here: