This pre event course is scheduled for 21-22 October, 2014
Featuring Sidney A Taylor- Lecturer, and Dr. Lydia M. Frenzel-Lecturer    www.clarion.org
The 6th international forum on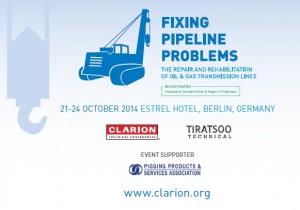 Technical Conference, Training Courses, and Exhibition
21 – 24 October, 2014 · Estrel Hotel, Berlin, Germany
Training courses: 21-22 October
Conference: 23-24 October
Exhibition: 23-24 October
Performing Pipeline Rehabilitation
This course is centered on the practical aspects of pipeline rehabilitation and covers both internal and external rehabilitation. The course goes into depth on how to safely rehabilitate operating pipelines using manual and automated equipment. Movement of in-service pipelines is analyzed in detail including the application and methodology of recommended practice API 1117. Other industry standards applicable to pipeline rehabilitation are discussed as well as how they should be incorporated into project specifications. Approximately half of the course is spent in analyzing case studies of field rehabilitation projects from around the world. Over 400 photographs are used to illustrate how the work was performed and the results obtained. The course presents techniques for performing the work with a combination of in-house personnel and outside contractors to minimize costs while maintaining clear lines of responsibility.
Who Should Attend

Engineers involved in:

Determining the best way to rehabilitate a section of pipeline.
Preparing the project specifications.
Performing the necessary engineering calculations to insure the project is carried out safely.
Health and safety issues specific to rehabilitation projects.

Field Operations Personnel and contractors who need to be aware of many alternatives techniques available for pipeline rehabilitation and their cost impact.
Inspection Personnel involved in evaluation of defects and selection of proper repair techniques.

Course Highlights
view the complete syllabusThis intensive two-day course focuses on real "how to do it" aspects of pipeline repairs and rehabilitation. Course highlights include:

Deterioration mechanisms and consequences – internal and external
What are the options? Rehabilitation methodology
How to safely work on operating pipelines
What are the repair options?  How are they installed?
How to select a new coating
How to safely work with manual and automated equipment
What is it going to cost?  Project manpower and equipment needed
How to strengthen a pipeline – internally and externally
Were they effective? Case study analysis of completed rehabilitation projects
400+ illustrative photographs of actual work and results obtained

LecturersSidney A Taylor is president of Incal Pipeline Rehabilitation, Inc. He has over 30 years' experience in the design and development of automated high-pressure water jet cleaning and coating systems. Prior to Incal, Sid worked with Schlumberger as a designer and manufacturer of well-logging tools and equipment, with MW Kellogg as a senior regulatory attorney, with Weatherford as general manager of water jetting systems, and with CRC-Evans as vice-president, engineering and marketing, where he was responsible for engineering design, manufacturing, and world-wide marketing of pipeline rehabilitation systems.Lydia M. Frenzel, Ph.D., is Executive Director of the Advisory Council, San Marcos, Texas. She was a Director of WaterJet Technology Association from 1995 to 2007, and since 1985 has been chair of the Waterjetting and Wet Abrasive Blast Cleaning Committees of the collaborative effort between the Society for Protective Coatings and NACE.

Dr. Frenzel serves as the USA Country Expert to ISO in Surface Preparation. She received the 1996 Steel Structures Painting Council Technical Achievement Award, and in 2004 was selected by the Journal of Coatings and Linings (JPCL) as one of the 20 Most Influential Persons in Coatings in the past 20 years.